Kia ora everyone, as we have covid -19 on our shores we are preparing our kids to work from home using Google Classroom.
Before you enter Whanau Tipu Google Classroom, please tell your child that they will need to create a Google Slides Writing folder, Google Slides Reading folder and Google Slides Maths folder.
Your child will have access to the lessons and will need to copy each specific week's slides into their own specific folders.
When they copy and paste each week's work, it is IMPORTANT they click on Do Not Link!
This will mean they will be able to add ideas to their own slide, without changing the original copy.
Instructions on how to do this will posted in Google Classroom in the VIDEO file. Watch the video MAKING YOUR FOLDER.
---
Logging into your child's Henderson South account
We will try our best to use Google Classroom, to keep up work routines, feedback and important news.
Before you follow these instructions, you will need to sign in to google browser using your child's Henderson school account. On the image below you change it from your account to your child's by clicking on the coloured circle as seen in the picture.
Click on the youtube link below and watch how to…
Help your child log in to Google Classroom account link
Or read this link
LINK – How to change your google account browser to your child's.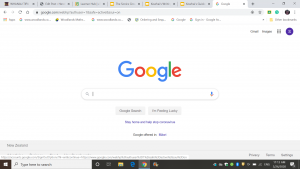 An example of an account is your child's first name (in full) and the first letter of their last name –        donaldt@hendersonsouth.school.nz.
---
Logging into Tipu's Google Classroom 
Copy and paste this code fdczvhe is the Google Classroom link.
It will ask you for it when you click on the link below.
WHANAU TIPU – Google Classroom Link

Print or Save this Post